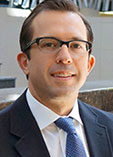 7777 Forest Lane
Suite A-331
Dallas, TX 75230
HOURS
Monday-Friday, 9am-5pm

About Dr. Bell
Dr. Christopher Bell, a Dallas native, completed a residency in General Surgery at Parkland Memorial Hospital and elected to further his clinical skills in a laparoscopic and bariatric surgery fellowship at The University of Texas Southwestern Medical Center. He earned his Doctor of Medicine at Texas Tech University where he was selected to the prestigious Alpha Omega Alpha Medical Honor Society. He graduated from Austin College with a degree in biology.



Dr. Christopher Bell is board-certified in General Surgery and is currently the Medical Director of the Bariatric Surgery Program and serves on the Executive Comittee at the renowned specialty hospital, Medical City Dallas. He is a member of the American College of Surgeons, Texas Surgical Society, Society of American Gastrointestinal Endoscopic Surgeons (SAGES), and the American Society for Metabolic and Bariatric Surgery (ASMBS)
Dr. Christopher Bell, premier Surgeon in Dallas, enjoys spending time with his family. He is married with two sons and likes being involved in their sports and activities. In his free time, he enjoys distance running, golf, and fly fishing.


About Dr. Sutker
Dr. Michael Sutker, Premier Surgeon in Dallas, is a Plano native who graduated from the University of Texas at Austin and earned his medical doctorate at the University of Texas Southwestern Medical School in Dallas. He went on to also complete his general surgical internship and residency at UT Southwestern. He received additional fellowship training in minimal invasive and bariatric surgery at University of California San Francisco.

Dr. Sutker has been in practice at Medical City Dallas since 2014. Dr. Michael Sutker is board–certified in general surgery. Dr. Michael Sutker manages a wide range of surgical disease. He specializes in treating conditions with minimally invasive techinques utilizing both standard laparoscopy and robotic-assisted laparoscopy. Dr. Sutker has specialty training in the surgical treatment of obesity, acid reflux, esophageal motility disorders, and paraesophageal hernias. He is skilled in the repair of abdominal wall defects, including inguinal, umbilical, ventral, and incisional hernias. Dr. Sutker also enjoys managing emergency surgical situations including gallbladder disease, appendicitis, and diverticulitis.

Procedures Offered
We specialize in minimally invasive/laparoscopic or robotic-assisted laparoscopic procedures. Dr. Bell is the director of the Bariatrics Program at Medical City as well as the President-Elect of the Medical Staff. Dr. Sutker is the director of the Robotic Surgery Program at Medical City.
Bariatric Surgeries gastric bypass, sleeve gastrectomy, LapBand removal, revisional procedures
Antireflux Surgery Nissen Fundoplication
Paraesophageal Hernia Repair
Heller Myotomy for achalasia (esophageal motility disorder)
Inguinal, Ventral, Umbilical, Incisional hernia repair
Cholecystectomy (gallbladder surgery)
Small Bowel Surgery
Partial and Total Colectomies
Endocrine surgery (adrenalectomies, thyroidectomy, parathyroidectomy)
Skin and Soft Tissue Procedures (removal of "lumps and bumps", lipomas, cysts, drainage of abscesses)
Appendectomies

Dr. Christopher Bell and Dr. Michael Sutker's practice encompasses both benign disease and cancer (malignant) disease. Dr. Christopher Bell and Dr. Michael Sutker's practice also does a large amount of emergency surgeries and the occasional trauma surgery..
Dr. Michael Sutker, Dallas Bariatric Surgeon, offers a free pre-operative seminar for new bariatric patients. Patients come at 8am, for a talk that generally lasts 30-45 minutes with time for questions at the end. They then stay for a formal consultation, history, physical, and to start the process towards becoming eligible for surgery.

This free seminar, is typically held in Dr. Michael Sutker's office, on the first Monday of every month. If you have interest in weight loss surgery, and would like to attend a free seminar, please call Dallas Bariatric Surgeon, Dr. Michael Sutker's office today at 972.566.7860

Insurance Accepted
Adding more soon... call for updates and more information. 972.566.7860

Aetna Comerical
Aetna Medicare PPO & HMO
BCBS TX HMO
BCBS TX Medicare PPO
BCBS TX PPO/POS
BCBS TX Premier HMO
Cigna
Coventry
First Health
Galaxy Health Network
Health Smart Accel
Health Smart GEPO
HealthSmart PPO
Humana Choice Care
Humana MA PFFS
Humana Medicare HMO
Humana Medicare PPO
IMS PPO
Medicare
Medicaid
PHCS
Prime Health Services
United Healthcare
United Healthcare Compass